Your One Stop Shop
HTC takes each project through vigorous planning to make sure our execution is exactly what our clients want to achieve. We can design anything and brand anyone with the same precision and quality, and, as a result, our clients come to us for a broad range of marketing and communications needs. Just take a look at our Portfolio to see the variety and excellence of our work.
Methodology
Strategy & Production Work Flow Process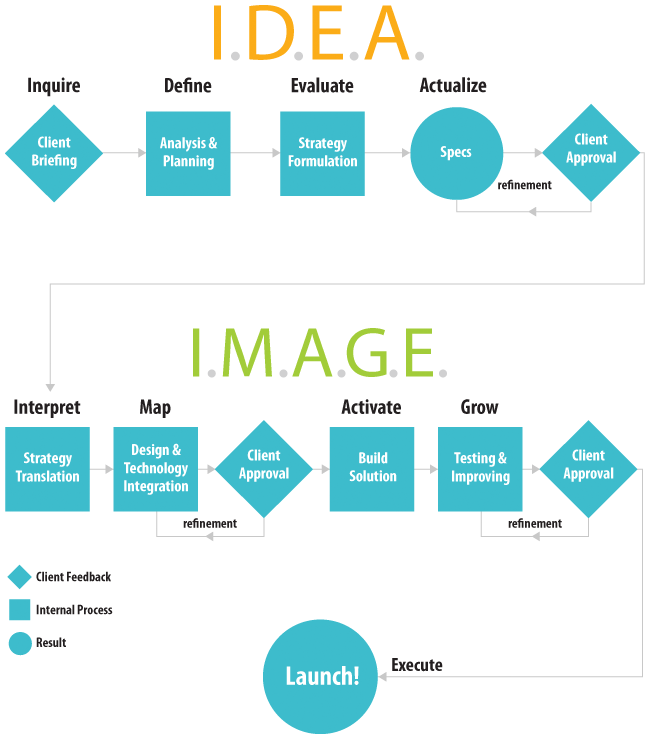 Strategy

Inquire – We enter the life of your company. We acquire knowledge about your company, people, products, services, strategies, culture, competitors, and customers. Then we create a strategic plan of action with you, establishing project goals, scope, budget, timeline(s) and benchmarks.
Define – We define the functional, technical, and creative requirements of your challenges. We then work together to clarify and redefine these challenges while establishing and detailing expectations, desires, issues, and obstacles.
Evaluate – We judge project targets against your business objectives and budgets, ensuring that they are fully aligned. With this evaluation we strive to mould our solutions to meet both your immediate needs and long-term goals.
Actualize – We put our plan into action and make our joint vision a reality. We form a plan for success and develop a final, overall project strategy. We invent the look and feel, customized to your needs, and we proceed to conceptualize the overall I.M.A.G.E.

Production

Interpret – We interpret your wants, needs, and dreams, translating our I.D.E.A. strategy into a creative design.
Map – We map the integration of content with design and technology capabilities. We then look for inspiration and strive towards creations that best convey your desired message(s).
Activate – We produce the approved design, information architecture and technical elements. We then develop a prototype of the end result, which is ready to use and refine.
Grow – We enhance, improve, and strengthen our solution and test the quality of the final product against our stringent standards for success.
Execute –We build the final product, driving our innovative design plan to completion. We help you understand, manage, and maintain our solution during and after the launch.
Want to know more about HTC and our projects? View Our Work or complete our Information Request Form.