Settings Our Sites beyond the Web
HTC tailors your website to your branding initiatives and your requirements. We go the extra mile to ensure our strategy is the right approach to achieve the results you seek, and then we implement our plan to deliver those results. View our Case Studies to see our strategies and IgnitionWeb in Action.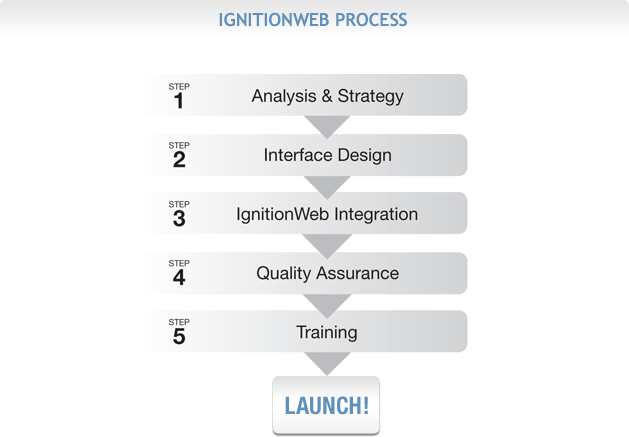 Analysis and Strategy
No successful Web project can begin without a solid strategy and a sharp, analytical approach to problem-solving backing it up. This is where High-Touch Communications excels. We have carefully built our company to provide you with a meticulous analysis and strategy package as well as sound design and production methodology.
Interface Design
We are firm believers in user-centred design, where the information architecture, navigation and front-end design are well-planned so that form and function are part of each solution. We devise wireframes, layouts and graphical content to develop the look and feel of your website.
IgnitionWeb Integration
At this stage, we program your newly designed Site and integrate it with our powerful Internet Marketing software. With you, we determine how elements on your site should work, how access will be granted across functions and tweak any customizations to ultimately grant you and your staff the control you need over your site to Inform, Promote and Transact online.
Quality Assurance
This is where we ensure the optimal functioning of your Complete Web Solution. We conduct Unit, Usability, and Functional Testing, and we undertake any necessary Debugging. We mount a staging site, for your review, so you can preview your site and test out how it works for yourself before we launch.
Training
When everything has been solidly reviewed and tested and the site is ready to go, we conduct training sessions to make sure your staff and administrator know how to control your site. We document the Help manual and we tie all the loose ends in preparation for launching your live site.
Want to know more about HTC and our projects? View Our Work or contact us.