Team Up with HTC
Completing a project at HTC requires input from each of our operational teams. We've structured our teams around our one-of-a-kind integrated approach to Branding & Web.
Organization
Operations Structure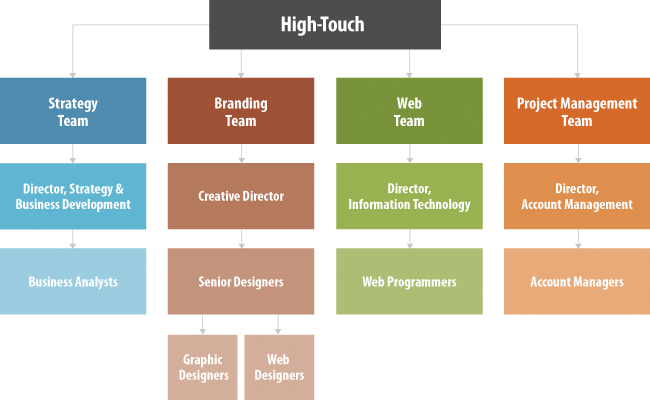 The Teams Behind Our Work
Strategy
Our strategists are the brainpower behind all our operations. They assess our clients' goals and challenges to create an effective plan of action.
Branding
The Branding team brings creative life into the Strategy plan. Designers produce work that best conveys our clients' intended message(s) and best reflects their organization.
Web
The Web team drives our innovative designs to completion, emphasizing functionality. Our developers and programmers are the bridge between HTC's creative ideas and our technical solutions.
Project Management
Project Managers oversee the smooth deployment of our initiatives and effective communication between all teams. They are the drivers of our projects from start to finish and handle all client communication.