IgnitionWeb Makes E-Business Easier
IgnitionWeb is the easy-to-use Internet marketing software that empowers businesses to Inform, Promote and Transact online. The IgnitionWeb platform consists of an integrated suite of Web-based software tools specifically designed for content management, customer relationship management, brand asset management and e-commerce. The IgnitionWeb platform can be customized to specific organizational needs, providing solutions usually only available in high-end applications, but for a fraction of the development time and cost.
Gone are the days when one or two overworked experts administered websites. With IgnitionWeb, updating your site is as easy as sending an email! Anyone can do it, and system access is fully customizable to fit your structure and hierarchy so that your site can grow at your pace, alongside your organization.
HTC and IgnitionWeb:
A Front-to-Back Approach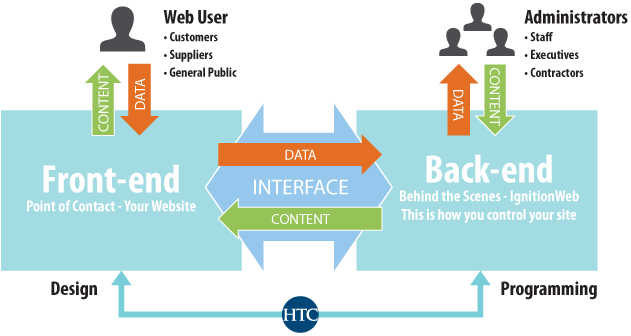 With HTC Software, Your Site Works for You:
Human Resources personnel can manage job postings
Sales staff can process online orders
Customer Service representatives can respond to consumer queries
The Communications team can post press releases and manage online mailing campaigns covering news or events
Translator(s) can process content
Content approval can be granted to authorized administrator(s)